New Power Door Locks with Keyless Entry kit.. If your power locks are broken, this is probably a cheaper way to fix the power locks than anything else!


This kit includes two 4 button transmitters (3 channels), receiver, wiring and 2 lock actuators, one for each door. This is a complete kit, designed for cars without power locks.

One important question is "Can I do this myself." I would like to believe that the answer is YES. This is a prewired the system, so all you have to do is run the wires and hook up the power door lock actuators. All you are wiring that you do into the car is a positive and a negative. The kit ships with the keyless entry wiring already done. If you can hook up a basic car stereo, you should be able to install this kit. I can honestly say that the hardest part of this kit is running the wires from the car to the door. The wires are in an awkward spot, and it will take some time and effort to run those wires. But I provide a special tool to help with that. With the wiring already done, installation shouldn't be very dificult.

As a side note, adding power locks and keyless entry to your car will not hinder the use of the key to open the doors.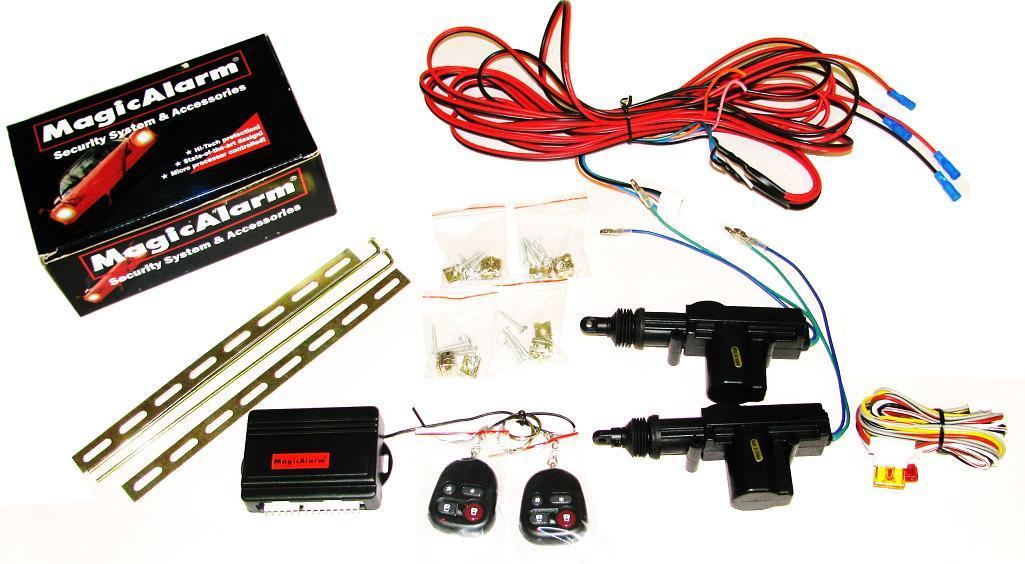 Pricing:
Combination Keyless Entry and Power Lock Kit: $49 + $8 S/H
Power Lock Kit: $19 + $7 S/H
Keyless Entry Kit: $30 + $8 S/H
Power Trunk Kit: $19 + $8 S/H
2 Way Alarm with Remote Start: $99 + $8 S/H
2 Door Power Window Kit: $85 + $10 S/H
Postal Money Orders and Credit Cards Accepted


Select Desired Products and Options:


Notes:
Power Locks:
Keyless Entry:
To order just power locks or keyless entry, select only one of the buttons. To order a combination keyless entry and power lock kit, selct both buttons.
Add a power trunk release: $19
The power trunk unit can be controled from the keyless entry remote.
Add a built in alarm (comes with Remote Start): $99
The Alarm is an Deluxe 2-way alarm, remote start, and integrated keyless entry system.
Add lock/unlock buttons for the interior of your car: $4.50
0: Add 1: 2: 3: 4:
Add 2 More Door Lock Actuator: $9
Convert the kit to a 4-Door kit.
Add a 2 Door Power Window Kit: $85
Click Here for Details
Send Postal Money Orders to:
Rothenbacher Enterprises
5005 Smith Farm Rd
Matthews, NC 28104